Artwork Guidelines and Formats
Artwork is produced in Adobe Illustrator. For production purposes, we prefer VECTOR artwork whenever possible.
A vector image is lines or shapes mapped out mathematically rather than pixel-based, referred to as raster which when scaled larger becomes fuzzy. The advantage of vector-based images is that they never lose their quality despite the size of the image.
Preferred File Formats
Adobe Illustrator CC (.ai, .eps, .ps, .pdf)
PhotoShop CC (.psd)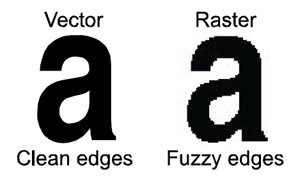 Other File Formats
Note files received in these formats may require redrawing of the artwork.
- CorelDRAW X8 (.cdr)
- AutoCad
- All bitmap images including .tiff, .bmp, .jpg, .gif
- Microsoft Office
Customer Artwork Checklist
- List all part dimensions (overall size, radius corners, holes, cutouts, etc).
- Convert fonts to line art (curves, paths, outlines) to avoid any font discrepancies.
- Send all fonts if you are unable to convert them to curves or outlines.
- Specify required PMS colors and their locations. If you do not have a specific PMS color, a McLoone standard will be used.
- If white prints on the label, indicate the areas by either assigning a spot color or specifying the exact locations
- Minimum line thickness .007"
- Minimum thickness of graphic trapping another color .015"
- Graphics kept a minimum of .045" from cut edges
- Outer border minimum of .045"
- Doming Requirements:
- Minimum radius for both inside and outside curves is .062"
- On Special Shapes (anything more complex than 90 degree angles) The minimum convex (outside) radius is .125'. The minimum concave (inside) radius is .1875'.
- Minimum width of part is .156"
- Image must be saved at 100% scale.
- Photoshop files – retain layers and do not flatten image (if possible).
- Color and grayscale raster images (.jpg, .tif, .bmp, .gif) at 100% size should be at least 200 ppi. Black & white raster images should be 1200 ppi.
- Document color mode and art saved as CMYK. Note: RGB images will be converted to CMYK.
- All images will be preflighted and reviewed by our Art Department before deemed usable.