Aluminum can be used as the foundation to match a variety of natural surfaces. Faux finishes currently developed include carbon fiber and patina finishes.
These structures are translated onto the metal substrate, combining the finishes with custom graphics, inlaid accents and embossed details to showcase product identification. The inherent reflective surface enhances the highs and lows of normal shadows found in the original material.
Carbon Fiber
Carbon fiber is a popular theme for products intended to reflect high performance and strength. The woven features of authentic carbon can be translated into decorative finishes.
Application possibilities for nameplates and labels with a carbon fiber finish are wide. A carbon finish is a popular trend in a variety of markets from automotive and aerospace to recreation equipment and sporting goods. Anything using authentic carbon for housing can be reviewed for opportunity to showcase the brand with a nameplate featuring that woven pattern. A functional overlay with deadfront graphics or transparent windows can also be opportunity to incorporate a sporty finish like this.
Patina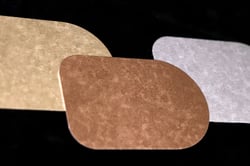 Patina finishes naturally exist on metal as the surface ages and becomes oxidized. This look can be achieved on aluminum to simulate that exposure to the elements. Aluminum can take on the look of other metals like brass or pewter.
Products from sporting goods and furniture to POP displays and packaging can be found using a distressed or patina finish to appear to be worn or aged. It is an attractive way to showcase craftsmanship and character which can increase the perceived value of a product.